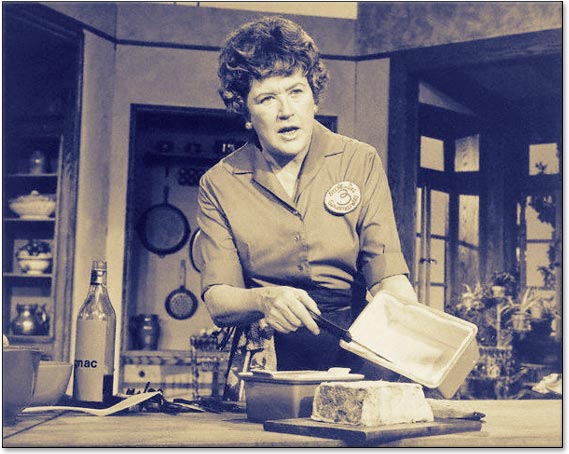 Oh, say it ain't so, Julia!
Files released this Thursday by the National Archives said that Julia Child, as well as Ernest Hemingway's son, President Roosevelt's son, Sterling Hayden and a bunch of other famous people, worked as
spies
during WWII. She was neither married nor cooking in front of a television audience when she applied. Her stint as a spy came after walking out on an advertising job, a decision she called "impulsive" in a note attached to her application.
In the summer of '42, Child, known then as McWilliams, started out doing clerical work for the Office of Strategic Services and then later began working directly with the program's Director as a research assistant. She was so good at her job that she received the Emblem of Meritorious Civilian Citizenship. The OSS was absorbed by the CIA after the war.
Julia Child is most known for making meat and potatoes seem trés pasé by tailoring French cuisine for less adventurous American palettes. She became the first woman to be inducted into the Culinary Institute Hall of Fame. After years of creating magic in the kitchen, Child passed away in 2004.
The headline about Julia Child being a spy was in big blue letters on today's Metro. I find it interesting that she made the biggest splash with her clandestine activities when
Sterling Hayden, who played Capt. McCluskey in 'The Godfather'
and Brig. Gen. Jack D. Ripper in 'Dr. Strangelove', was given only a passing mention in
the more complete MSNBC.com article
. Why? Because she was a mild-mannered woman working from the two least threatening places: the kitchen and PBS? Because we see her as wonderfully prim and proper? Either way, Julia Child being a spy makes her that much cooler, and I think I'll pick up one of her cookbooks on my way back to school.
Links
Julia Child interview on YouTube
Julia Child on Biography.com