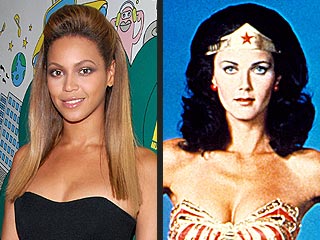 In a Los Angeles Time interview,
Beyonce
told reporters that she'd love to play Wonder Woman. Dear God. As if we haven't been subjected to enough of Beyonce's "
acting
". She claims she wants to take a break from all the heavy roles she's been taking on and have fun with as superhero. In keeping with her specially manufactured brand of southern
I'm-cute-but-not-that-bright charm
, she said, "I would definitely have to
keep it right
for
that
costume. But I love Wonder Woman and it'd be a dream come true to be that character. It sure would be handy to have that lasso." It'd be great to have a black Wonder Woman, but please, not Beyonce. All we can do is hope that the next
Iron Man
movies will be good...