A few weeks ago, I mentioned I was on a cruise and I'm finally getting around to posting about it. Even with my tragically modern clothes (I own one vintage sweater and two pairs of my great aunt's boots), I try to keep the vintage spirit alive. Consider this an outfit post in the spirit of
Andi B. Goode
.
Note the rockabilly-inspired bandanna and faux-beehive (my hair is still really short and the angle's not great):

But more than anything, I tried to work in a classic nautical style, with blue and white stripes. The photos of those outfits are on The Boy's camera, unfortunately.
What I really wanted for my trip, though, was a sailor dress. The Boy thought it was costumey and ridiculous, but I think they can be so charming.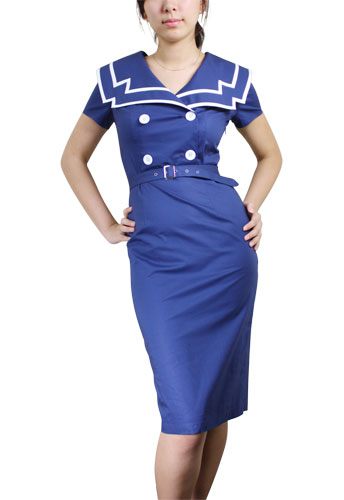 from
Get Go Retro
And by the way, I am dying for this bathing suit:
Either way, I can easily do blue and white stripes for summer so I can feel at least a little bit like naughty-cal (sorry, the pun had to be made), even when I can't get to Martha's Vineyard.
Like what you see? Tweet This